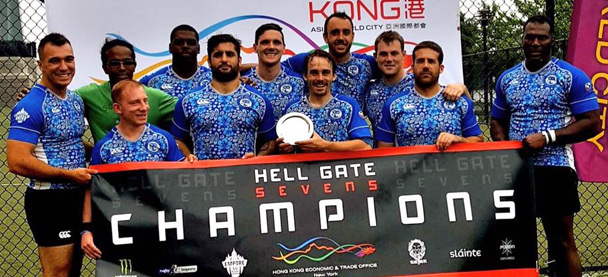 The Brooklyn 7s team was formed in the summer of 2008 to add another powerful branch to the emerging phenomenon known as Brooklyn Rugby. While the first few seasons were focused on building the team, starting in the summer of 2011, the team started winning games against strong local and international teams, and becoming recognized as a force to be reckoned with.
2012 saw Brooklyn 7s' first silverware, picking up Plate Championships at the Long Island 7s and Rockaway 7s Tournaments. 2013 was another successful year for the team, picking up the cup at Village Lion's Hells Gate 7s, and the plate at Danbury's Tri-State 7s.
In 2014, the team saw success at the Rockaway 7s, bringing home the plate and placing second at Monmouth 7s in New Jersey. Their performance overall earned them a second place finish in the Empire GU 7s Series.
2015 was Brooklyn 7s most successful season to date, finishing as Empire GU 7s Series champions, after racking up a 21-4 Win/Loss record that saw the team achieve a first place finish at Monmouth Sevens, three second place finishes, and a third place finish on the season.
COACH: Craig MacKenzie | Email
For practice info click here.